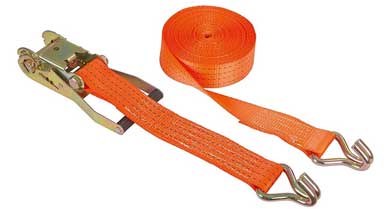 Royal Packaging- One of the Best and Popular Ratchet Belt Manufacturers in India
We Royal Packaging industries from Pune, Maharashtra are leading Ratchet belt manufacturers, dealers and suppliers in India. We manufacture and supply a wide range of Ratchet belt in different sizes, dimensions and specifications as per customer's requirements.
With the latest and innovative technology, our highly skilled professional team design and fabricate ratchet belt for securing all types of load access while shipping, transporting and storage purposes. Due to its quality features and specifications, there is huge demand for our manufactured ratchet belt in the markets.
What is ratchet belt? What are its uses?
Ratchet belt is a polyester webbing used to secure load access while transporting. It consists of buckle provides the tension force and helps to fit and pack, load access without any damage. Thus, supplying of load access, or products become safe and easy. Our ratchet buckle is also consists of locking and unlocking mechanism which is highly safe and fast.
Top reasons why would you buy our ratchet belt:
Due to following reasons, our ratchet belts are the best in the markets and one can buy it with the reasonable prices.
As per industry norms and standards, we offer the premium quality ratchet belt in compliance to meet the international standards.
Our ratchet belts are easy to use and thus, it helps to save time and costs.
We provide high tenacity polyester webbing consists of high resistance to abrasion.
Locking and unlocking system is very safe and fast.
Our ratchet belt lashings are clearly marked with a rated assembly and minimum break strength.
Features and specifications:
| | |
| --- | --- |
| Available color | Orange |
| Brand | Royal Packaging |
| Material used | Polyester |
| Sizes | As per requirements |
Applications:
Shipping, loading, shifting, lashing, or packaging
Read More