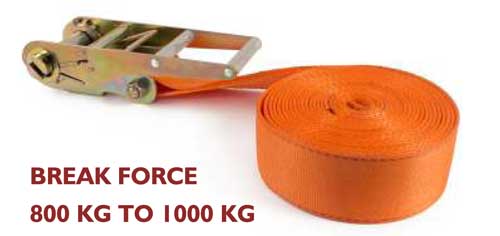 Ratchet Endless Lashing
Ratchet Endless lashing system comprises of a tensioning device which is attached to the webbing. It is used for bundling purpose. This system can be provided in 25mm to 75mm and any lengths. As one of the countries leading load restraint manufacturers the Company is also pleased to offer a bespoke service that can quickly produce lashings with alternative; lengths, end fittings, ratchets or webbing to order. Webbing can also be customer printed with your company logo or other design Break force — 800kg to I 0000kg
Features:
Double locking long wide handle ratchet and high tenacity polyester webbing.
Can be ordered and supplied to any length.
Bespoke service that can quickly produce lashings with alternative; lengths, end fittings, ratchets or webbing to order.
Webbing can also be customer printed with your company logo or other design.
All this, added to the long experience in this sector, we are able to say that we do not only sell lashing systems, we produce safety and serenity/relief for the lashing of loads.
Read More