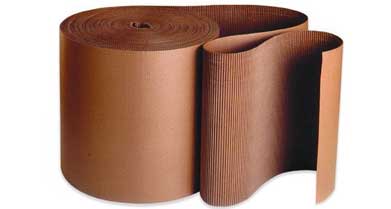 Corrugated Box & Roll
We are engaged in manufacturing and supplying a vast array of Packaging products like Corrugated Roll. A corrugated roll is made of crepe paper, tissue paper, paper boards, plastic films and many more. These products are widely used for packaging of various products like plastic ware, glass ware and steel utensils. We have developed an extensive vendor base to procure quality raw materials for our packaging products. Our corrugated rolls are available in different lengths and colors in order to fulfill the extensive demands of customers. The corrugated paper rolls are generally used in packaging of diversified industrial products.
Anti Frictional Tungsten Coating rollers are highly efficient as they symbolises the most advanced technological development of the Corrugation Packaging Industry. The combination of High Precision Grinding and Cobalt Tungsten Coating enhances the life of the rollers and is economically viable on the production frontier. Royal Packaging Industries provides certification for Flute as well as Product Quality. Such rollers are perfectly synchronised with single facers and automatic corrugation plantsin order to maximise the return on investment.
Read More